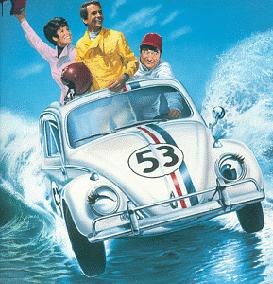 If you're in the Westwood area Sunday morning, May 22, stop by the Billy Wilder Theatre (
10899 Wilshire Boulevard
) for a free screening of
The Love Bug
at 11am. This cute little story about a VW Beetle with a heart of gold (or very warm steel) is the first in the 'Herbie the Love Bug' series. The movie follows Jim, a down-and-out racer, that crashes his car and sets out to find a new one. After Jim defends a white Beetle at a car showroom, he wakes the next morning to find it parked outside of his house. Seeing how fast it runs, he strikes a deal to make monthly payments and race the car professionally. Obviously, hijinx ensue.
This movie is a classic and fun for all ages (you know, before Lindsay Lohan ruined it). This would be a great pre-cursor for all of you waiting for Pixar's
Cars 2
to come out later this summer. Get there on time and don't miss out!